Boots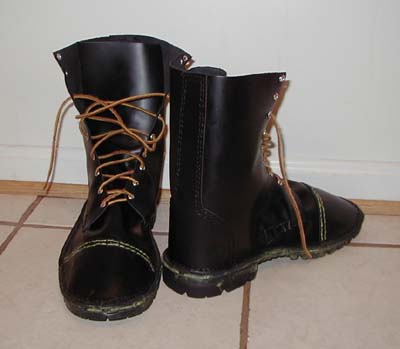 well, 2 pairs after the pair below ive got something that hopefully really is not only wearable, but comfortable! These have vibram boot soles on them, and are made from 5oz firm temper waterproof leather...finally done! (i hope!)




almost a year after the 1st pair, my third pair of boots. this time i used actual -6oz boot leather- and i cut up an old pair of boots to use as a pattern. these have a steel toe and a plastic heel stiffner. the bottoms are tire rubber that was stitched on and then coated in plastic. these -seem- to be wearable, tho i gotta wear them around to see how they handle under real life stresses.




This is my second pair of boots--theyre much better. Though in the picture the toe looks weird on the left boot, but in reality its fine, i think it just bunched up for the pic....damned non-photogenic boots!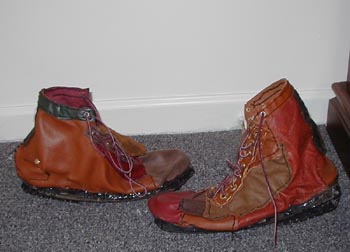 These were one of my side projects that i was saving for an unbearable, hot, yucky, day. That day came about two weeks ago. I bought the leather from a stores scrap bin and pieced it together. This was my first time doing anything with these materials, i'm happy that these boots have managed not to fall apart yet. Maybe i'll wear them out someday...In making these, as you may notice, i used a lot of hemp. The thread for the awl was unbelievabily expensive, and i had hemp just sitting there saying 'use me'. The boot was formed around a steel shank. Once all that was done i used an old rubber tire as the bottom. I'm thinking my next pair of boots will be better, and include a steel toe, though i'm very happy with the outcome, as in, i'm happy there was an outcome!