| | |
| --- | --- |
| | These pictures do not do this table justice. The pieces you see are all at different angles and the photographs just dont show the dimensions well. Still, i like my new table lots. |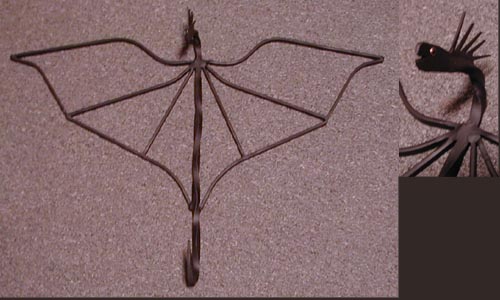 Introducing my second dragon, Draco's father and Flamy's son--Billowy.




This is one of those fireplace thingies. The two scrolls were weleded on the bottom and the top was flattened, then splir--finally found a use for ye ole' sledge hammer.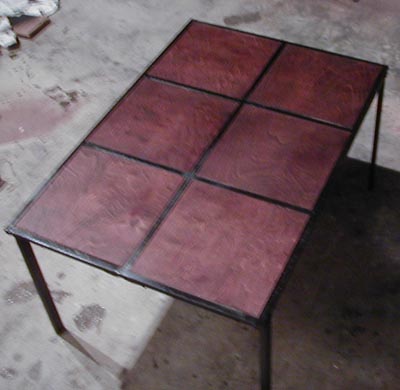 This table was made rather simply--a frame was made then pieces of birch were put inside it. Makes for a nice coffee table.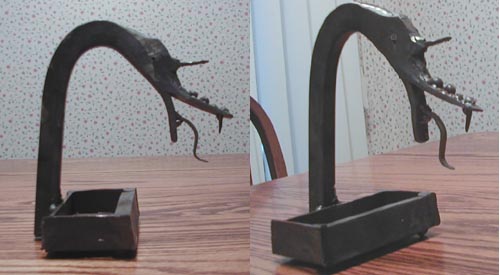 This is a business card holder i made. Its a dragon thingy. I wish i had a coal forge to make this...using a mig was such a pain.


| | |
| --- | --- |
| | This table is fairly simple. The frame is steel and the top is patterned copper. |
| | |
| --- | --- |
| | This candle holder was made the mega bitch way. To give it a textured look all of the bars were thinned out about 1/16"...wheh...what fun? |

This table resides in my basement now, its awaiting its glass which is on order.
| | |
| --- | --- |
| | This is a simple picture frame, with a wonderful picture painted by my girlfriend inside it...awh, shes so wonderful. |
| | |
| --- | --- |
| This candle holder was made for my friend cause she had the idea to use flourscent paint. | |
| | |
| --- | --- |
| | This light house is made from lotsa stuff welded together--i had no sheet steel that thick. The brass had a steel piece of wire soldered on in the places where it was welded. The top part (the circle) is silver coated brass. This picture is really dark...i apologize. |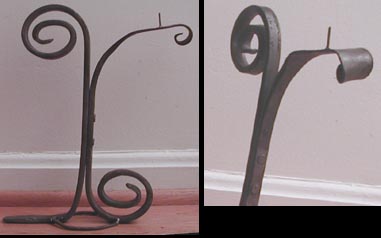 This candle holder was rivented together (the second pic shows the details of the rivets). It is coated is linseed oil.