Logistics





Jargon:
id= The inside diameter of a ring.
ga= The gauge of the wire used.


Ring Sizes: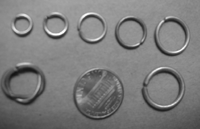 Ring sizes from left to right: 3/16 id, 1/4 id, 5/16 id, 3/8 id, 7/16 id,
5/16 id twist ring, penny, 1/2 id.



Gauges:


These are all 5/16 id rings, from left to right: 14ga, 16ga, 17ga, 18ga.


Wires:


From left to right: Copper, Brass, Annealed Steel, Galvinized Steel.


About The Wires:
Galvinized Steel: Silverish Color, medium strength, plated type corrosion resistance.
Annealed (mild) Steel : Black/Dark Brown Color, medium strength, possibility of rust over time.
Copper coated steel: Red color, good strength, usually comes in the form of tempered MIG wire.

Copper : Orange color, soft, oxidizes over time.
Brass : Yellow color, soft.
Red Brass : Red, as soft as copper.
Nue Gold : Yellow, as soft as brass (note this is a copper/zinc alloy--not gold).
Nickel Silver: Dark silver color, very corrosion resistant, slightly softer than mild steel.

Silicone Bronze: Orange color, equally as strong as mild steel, heavy.
Phosphor Bronze: Reddish orange color, much stronger than mild steel, hard to work with.
Jewelers Bronze: Orange color, slightly harder than copper.

Sterling Silver: The whitest of all metals, about as strong as copper, oxidizes over a long period of time.


Stainless Steels (note that each alloy has a full range of tempers and the temper generally dictates the strength):
304: The most affordable of the stainless steels. Generally good corrosion resistance.
308: Marine grade SS.
316: Surgical grade SS, hypo-allergenic.

Aluminum:
5354: Dull gray, oxidizes, a bit softer than brass. Can be sealed by boiling or acid etching.
5356: Bright silver, non-oxidizing, about as strong as mild steel (mig wire temper).

Titanium:
Al4V6: Gray color (heat or electric anodizable), hypo-alergenic, about as strong as mild steel in annealed state.